5 days of Holiday Spirit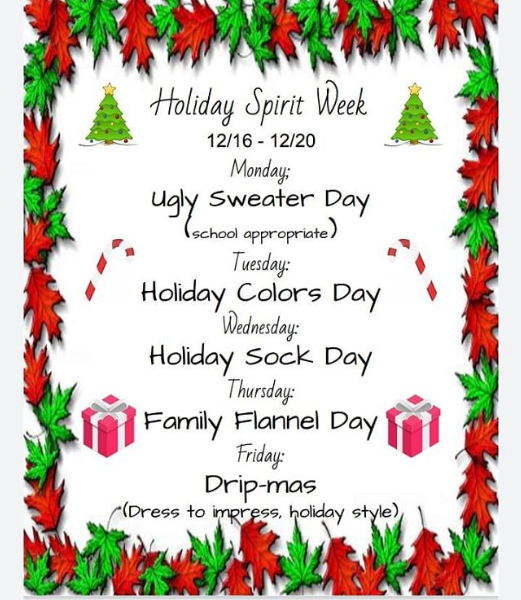 The week before winter break, students anxiously wait for school to end. Teachers add in grades for progress reports, and winter break is coming closer each day. Before the break begins, why not add some holiday cheer to the students? Grab your ugly holiday sweaters, socks, and flannels, it's beginning to look a lot like Christmas at SWMHS!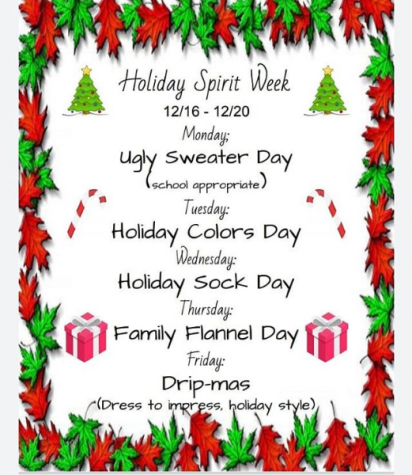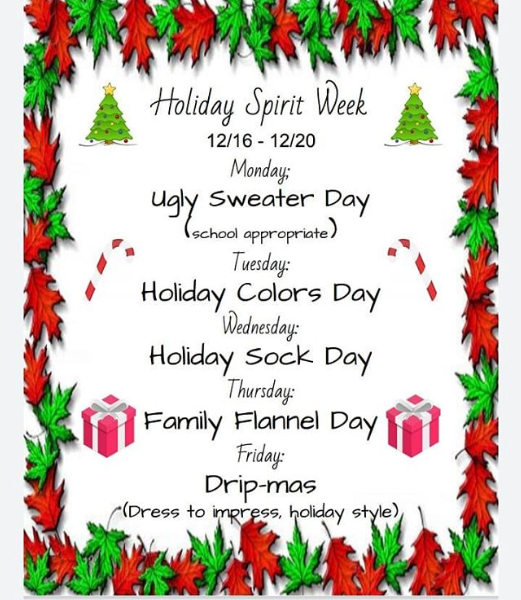 Day 1: Ugly Sweater Day
One of the things that almost everyone has is an ugly Christmas sweater. It might have a movie quote or it might be decorated with tinsel and jingle bells. For cooler autumn/winter days, it'll keep you warm. Not only will ugly sweaters keep you warm, you might make somebody's day with your ugly sweater that says "You go Glen Coco!"
Day 2: Holiday Colors Day
Red and Green are the official colors of Christmas. Together they're a wonderful match. Red is the color of passionate things, while green is the color of nature, a holiday that everyone is passionate about while surrounded by a Christmas tree decorated in decorations and bright lights. I wore a green shirt on Tuesday, although it was not a Christmas shirt, it was a holiday color.
Day 3: Holiday Sock Day
As a fan of colorful socks and socks with cartoons on them, Holiday Sock day would be my favorite day. Santa Socks, Snowman socks, star socks, and fun socks. It's the day of the year that your socks can radiate with colors and designs of holiday spirit.
Day 4: Family Flannel Day
Flannels are great for everything, whether it is for sleeping or wearing to school. You can wear flannels absolutely anywhere and they are comfy too. I wore flannels and I was asked a lot if I just wore my pjs to school by some teachers and they were surprised when I said no.
Day 5: Dripmas
On Dripmas, everyone had their "drip" on. From holiday suits on the boys to the girls wearing their holiday chic, Dripmas was just like walking into a holiday fashion show. Everyone had such nice outfits on, and their holiday spirit was fully embraced. One thing that everyone was waiting for on the end of Dripmas was the school bell ringing after eighth period to signal the start of the long awaited winter break.
Winter Break has begun, a time to relax and spread joy, for family and for friends, and for good food and good sleep. Happy Holidays to all, stay warm and stay healthy, winter break will go by quicker than you think.