Is Kanye West taking the right approach to gain publicity for his new music?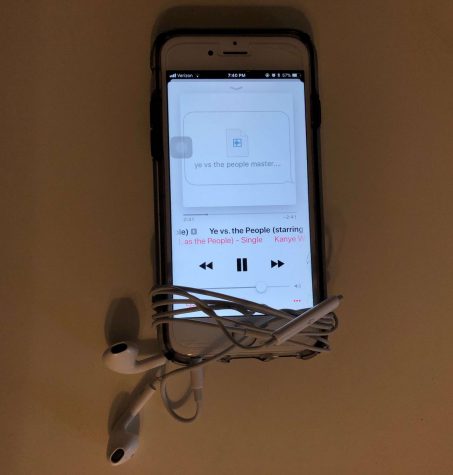 Hang on for a minute...we're trying to find some more stories you might like.
Over the past few weeks, Kanye West, one of the most well-known names in entertainment across the world, has taken the headlines across television, social media, and newspapers by storm. He has recently taken control of his political views and began publicly showing his support for the controversial President Trump. With this, he instantly released two brand new singles right afterwards, and many were curious as to what he had to say.
All of this began directly after West had taken to the social media hotspot, Twitter, on April 25th, 2018, in order to show his support for Trump, when he stated, "You don't have to agree with trump but the mob can't make me not love him. We are both dragon energy. He is my brother. I love everyone. I don't agree with everything anyone does. That's what makes us individuals. And we have the right to independent thought."
Due to the odd comparison of calling him his brother and usage of their common "dragon energies", it automatically caught the attention of many. Trump then acknowledged West's shoutout in gratitude and thanked him. After the immediate response and backlash received, West then continued to make points about the fact that he had not necessarily  been a part of one political party, rather he had a much wider range of political thoughts and shared ideas with both parties, showing support for Hillary Clinton, Trump's opposing candidate during the 2016 presidential election, as well.
With all of this commotion and publicity going on around the star, many were curious as to what his upcoming music would be about. Would he stick to light, mainstream topics or go to hard-hitting, real life issues that he has recently been very publicly in touch with? With West's background of being no foreigner to the world of politics, as seen in his announcement that he would be running for president in 2020 a few years ago, these singles showed his true outlook and position, in which he went with the recently growing wave of politically-based music. As one of the most common daily aspects of life, music is one thing that always has the potential to be political, as it is so easy for artists to either show their support or disapproval of certain things happening around the world. This showed true in "Ye Vs. The People" featuring T.I..
With "Ye Vs. The People", there has been a variety of responses from the public. The entire song is seen almost as a dialogue in which West is simply himself, or Ye, and then T.I. is speaking for the general public and the media's responses towards all of his actions. Back and forth, they are talking and expressing their concerns over West's views in terms of himself simply deserving the right to his own opinion, but also the reactions and concerns that are being expressed from others for what he is standing for, as many are not necessarily in agreement with what is seen to go alongside with the general "Make America Great Again" motto, which is heavily talked about in the track.
Many who are in support of this song enjoy the fact that West is finally able to talk freely about what he believes and cares for, regardless of what he is saying. As seen from his song, it is very evident that he is just trying to be able to bring new ideas and approaches to the table, yet feels he is not being accepted nor taken seriously in some points, suggesting it may be better for himself to be rapping about other popular topics heard in many rap songs. Each and every time, all of his arguments are then rebuttled by T.I.'s standpoint, representing the public, in which he is simply explaining that West has an obligation to his fans and is ruining his reputation extremely quickly, believing he is ignoring prominent issues in today's society.
Lyric-wise, West has completely changed himself, but maintained his general sound that has followed him throughout the years.
The second single, "Lift Yourself", was much more lighthearted and less political. Tempting with new sounds, the beginning is a group of females singing about lifting yourself up before there is a brief interruption of an EDM-style remix of the same intro, before it turns to West trying out scat singing. This track had also been found very interesting as it was not very similar to anything he had produced before, yet did not gain as much attention as the other track.
As of right now, it seems as if West's new music will contain a large variation of different genres as well as touch upon very series topics. His upcoming album will likely be the most politically centered one of his yet, which should definitely make for some interesting reactions.