Who is Dr. Labbe?
Interviewing the Sayreville superintendent and high school interim principal.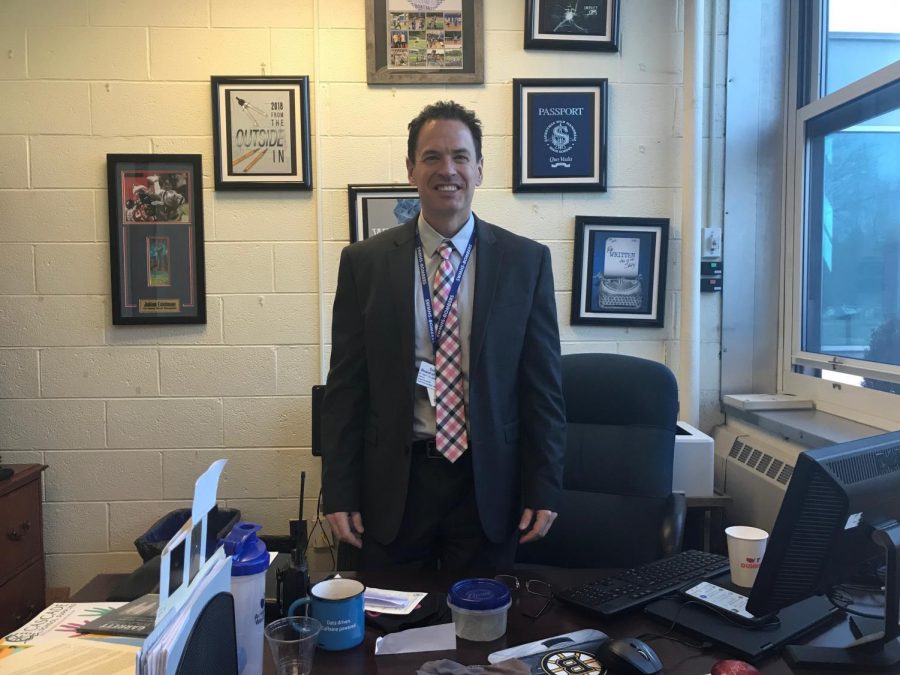 "Good Morning War Memorial!"
We all know this daily morning motto. But who exactly is the man behind these exuberant announcements, and what's he doing as both superintendent and interim principal?
Dr. Labbe graduated in 1989 from Upsala College in, which discontinued its service in 1995. He is currently serving his 5th year as superintendent and has been promoted to interim principal since January 1, 2019. From teacher, to assistant principal, to principal, to Director of Special Services, to Superintendent, the list of credentials cease to end. However, one may be surprised to learn that his initial dream was to become a sports broadcaster (which certainly explains his enthusiastic daily announcements).
In the weeks following Mr. Brown's retirement, job openings for the new position were put up. However, according to Dr. Labbe, "You guys deserve the absolute very best that we can give you … I wasn't going to settle on someone that I didn't feel comfortable leading you guys. The logical decision was for me to do both."  And so, the Board of Education made the final decision to choose him as the most suitable replacement.
While he will only be principal for a short time, it certainly does not stop him from planning future changes and implementing new ideas. As of right now, he goes by the Response Intervention ideology which identifies students at risk of failing in order to provide the proper resources they need to succeed. This in effect led to the creation of the Opportunity Room – a study hall for students to focus on their academic work. While it has not been initially successful, it does provide tutoring from the National Honor Society.
With this new role, it allowed Dr. Labbe to reconnect and work directly with the students, making it one of his favorite aspects of the job. He says heartwarmingly, "You guys breathe new life into me […] when you're superintendent sometimes you're away from the kids so much that you kind of forget who it is that you're working really hard for." He also gives credit to the staff, secretaries, and administration for making his job so great.
However, it does come with its hardships. Working two jobs is no easy feat, and it shows in his rigorous daily schedule. He ends the work day at 9:30 at night, then wakes up at 3:30 AM to start the next day. In terms of being superintendent, one of the hardest parts is having to let go of students and teachers. He goes on to say, "I pride myself on being a good person. It's hard to let somebody go […] it breaks their heart." At least on a more positive note, being superintendent allows Dr. Labbe to see the success that comes out of his and the administration's hard work.
When dealing with a tiring work schedule, we had to ask what keeps him so positive all the time. Well, it became clear that Dr. Labbe always wants to treat the students with the abundance of respect that they deserve, and that he pushes to give them the best experience possible. When asked specifically about his energetic morning announcements, he explains that it's not just because he's "always been attention-deficit hyperactive" but that he wants students to "work hard, and have fun [because] life is too short, and you've got to enjoy things".
While Dr. Labbe is very proud of being able to make at least a small impact on the school and to see the students succeed, one of his greatest achievements outside of work is his wife and two sons – a 16-year-old and a 22-year-old. He gushes when he explains that "[I've got] the most amazing person that I am married to, my best friend and my soulmate, and [she] has been there for 28 years." When he is not working or with his family, he spends his free time practicing martial arts, playing golf, jogging, and keeping up with the Patriots and Red Sox.
As hardworking as Dr. Labbe is, how long will he be interim principal? If everything works out, then our new principal is expected to join the high school on April 10th. Nevertheless, Dr. Labbe promises that, "If I am not happy with that person then they won't come in here" then jokingly adds that "I have to explain [that] to my wife though."
Until then, Dr. Labbe will remain most thankful for being able to work with the wonderful staff and kids. He treats everyday like an adventure, with some being more hectic than others. And so, he leaves us with a final message to the students, parents, and staff: "You are amazing and it is truly an honor and privilege to have the opportunity to work with you, to accomplish the common goals we all share."