Middle Schoolers take on SWMHS Open House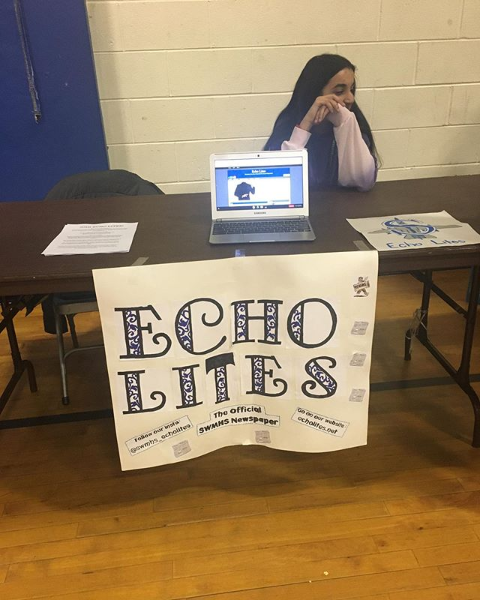 Going from middle school to high school is a very big leap. A new school with new classes, new friends, new interests, and new clubs to join! On Thursday January 23 I, along with fellow newspaper member Kavita Parasuraman, represented Echo Lites at the SWMHS open house.
Along with Echo Lites, there were a good amount of clubs and sports represented. For clubs: Theater and Stage Crew, French Club, Computer Club, Poetry Club, NHS (National Honor Society), Leo Club, TIGS, DECA, FBLA, and Quo Vadis (the school's official yearbook) all sent representatives.
Sports included soccer, football, baseball, bowling, cross country, golf, Unified Sports, and track.
Once the Open House was in full swing, the gym was packed! Many middle schoolers and their parents were walking around the tables, looking to see if anything interested them. The most popular clubs were TIGS, French Club, and NHS. Kids had papers from almost every club that was giving them out.
To all the middle school kids who are coming to Sayreville, it is not as scary as it may seem. In high school, you will join new clubs, make new friends, take interesting classes, and make memories that will last a lifetime. The first few days are just the scariest, but you will soon remember this place like the back of your hand.