SWMHS DECA Sell's Hot Chocolate During The Holidays
SWMHS DECA chapter sells delicious hot chocolate during the holidays not just for it's self but for the cookies for cancer fundraiser as well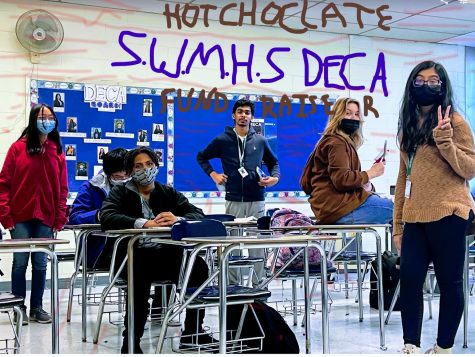 As many students may already know, Sayreville War Memorial High School's DECA (Distributive Education Clubs of America) Chapter had the clever idea to sell hot chocolate during the Christmas season (consisting of the last two weeks before winter break). The cash raised was not only for our chapter but also for a fundraiser called Cookies for Cancer, which is dedicated to raising funds for pediatric cancer research by discovering new, better, and less harmful therapies for it. More information about this fundraiser is available at https://cookiesforkidscancer.org.
DECA's hot chocolate had grown so famous that they ran out each time that they sold it; even the members selling the hot chocolate did not foresee such a high demand for their product. It became a trend for many kids to drink this hot cocoa before and after school.
The coupons DECA offered, which could be used to buy a hot chocolate for yourself or anybody else in the school, may have been the most valuable aspect of this fundraiser's success. People wrote messages on their coupons and gave them to members helping out in this fundraiser; these people would send it to the person it needed to reach (their homeroom class), and from there, the receiver redeemed their surprise reward outside of room A-208 (Mrs. Ferreri's room) the next time DECA sold hot chocolate. You could have even done it anonymously.
There were two types of hot chocolate that were sold: the small or the deluxe one (this was larger in size and included marshmallows and a candy cane). The small one would have cost you $1 while the deluxe one would have cost you $2.
Overall, this was a great way to spread kindness, make people smile, and form better relationships with other students and staff members/teachers within our school, and SWMHS DECA was cheerful to ensure the sales they collected would go to a good place.