Did Twenty One Pilots go in the right direction with "Trench"?
Hang on for a minute...we're trying to find some more stories you might like.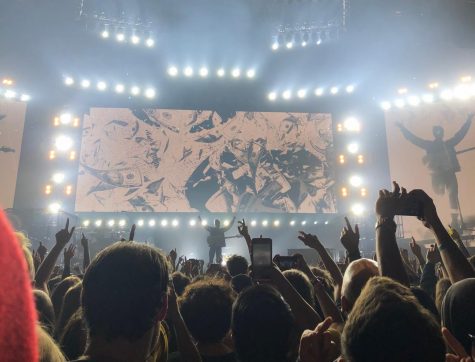 Ohio duo Twenty One Pilots have taken over radio stations and award shows over the past two years, after the release of their single, "Stressed Out", followed by a series of other hit singles, including being featured on the "Suicide Squad" soundtrack. This fall they released their sophomore album, Trench, showcasing their growth as a group and new sound, under much larger pressures than ever before.
After countless tours all over the world, the two ultimately disappeared from the public and all social media, marking the beginning of their hiatus. Their extremely dedicated fanbase was left puzzled for months, trying to piece together subtle clues and ideas from anonymous Twitter accounts regarding the upcoming album, as everything tends to be very conceptual and connecting.
This continued until the double single "Jumpsuit" and "Nico and the Niners" was released and a new flood of album and story theories came in. With these singles came two music videos as well, picking up the pace from a music video from their "Blurryface" album, a year prior. This highlighted one specific theoretical story regarding a man named Clancy in a made up place called Dema, all of course which were metaphorical and open to the fans' interpretation. Due to the metaphoric complexity of this album, it is one that has to be appreciated simply for the depth and planning itself, as the musicians are consistently pushing boundaries unseen with  other modern popular artists.
Musically, Trench is completely different than anything Twenty One Pilots has ever produced, which caused some backlash from older fans, but was an attraction to many more new fans. Despite the much slower, pop sound, they were able to maintain their typical lyrical approach, focusing on staying in touch with emotions and discussing personal reflections, as seen with lyrics such as, "I'm still not sure if fear's a rival or close relative to truth" and "the softest echo could be enough for me to make it through", as heard in "Bandito".
The vast difference in comparison to new music initially made this album a bit more difficult to enjoy as much as previous releases. This changed after seeing it come to life at their concert at Madison Square Garden. Being surrounded by thousands of others, as if a part of the "Jumpsuit" music video, turned a normal show into a surreal experience being able to see both familiar faces and those from as far as Australia being able to bond and be united by a shared interest. Due to the emotional emphasis in their lyrics, it's also amazing being able to see so many people connect over the same feelings and thoughts. One of Twenty One Pilots's most outstanding characteristics is their ability to put on a show that could amaze anyone, whether enjoying the music or not, due to the unity in their crowds and their insane stage presence, where they are always working to be as entertaining as possible.
Although Trench had not been their best album in many fans' opinion at first, it quickly has become personified into something much more than just an album, and rather a story or a night, for many.