FBLA Launches Project Insulin
On December 29, Future Business Leaders of America (FBLA) announced its annual community service project for the 2022-23 school year – Project Insulin.
FBLA is the largest ongoing organization that allows high school students to develop an understanding of leadership, business, career preparation, and overall occupational success. Advised by Mr. Annett, FBLA is a competitive-based club in which events are divided into three categories: individual, team, and chapter.
The club hosts an annual community service project with the intention of promoting awareness for various good causes. This year, Project Insulin has been launched in order to facilitate a proper understanding of diabetes.
Led by Shriya Patel (Co-Chairsperson), Aaryan Parikh (Co-Chairsperson), and Jai Desai (Social Media and Marketing Manager), Project Insulin has begun to advance the education and literacy of diabetes. Furthermore, the leaders have gone as far as donating funds to the American Diabetes Association (ADA).
Patel, who also serves as the FBLA Vice President of Community Service and Fundraising Events, broke down the process behind the campaign.
Project Educate
In order to help spread an accurate message surrounding diabetes, the group began initiating the first phase of the program – Project Educate.
"We took a Coursera course called 'Easing the Burden of Obesity, Diabetes and Cardiovascular Disease,'" Patel explained. "[We wanted] to make ourselves knowledgeable in the field we would be teaching others."
Misinformation can spread like wildfire in the world of modern digital media. When covering a topic that is widely misunderstood, creating a foundation of learning and self-education is a necessity.
Additionally, the members behind Project Insulin invited endocrinologist Dr. Shah to an FBLA webinar. Endocrinologists specialize in endocrine system disorders, and diabetes is considered the most common disease in this area.
Patel shared, "He spoke a lot more about the effects of diabetes, how it can be reduced or prevented, and how prediabetes may affect a lot of us as adolescents."
However, the three didn't stop there – in order to further their education, the team have begun to interview ADA member Daniella Pagano. To gather statistics and advance their learning, Project Insulin has used this opportunity to discuss ways to support those who have been diagnosed with diabetes.
Project Serve
As the name suggests, the second phase of Project Insulin sought to serve the community and allow individuals to get involved. After going to great lengths to educate the public on a widely misunderstood disease, the partners released their gathered statistics regarding diabetes along with ways to get involved.
"The goal of our project is for the community to be literate in diabetes, effectively removing the knowledge barrier," Patel clarified.
In order to simultaneously promote learning and community involvement, Project Insulin sponsored a Thanksgiving Gram fundraiser. Patel, Parikh, and Desai sold cookies as a week-long event to collect funds for the ADA.
The purpose of the fundraiser was to bring awareness and support to Hypoglycemia, otherwise known as low blood sugar. When diabetic patients do not have the proper amount of glucose within their blood, the body cannot properly function. Hypoglycemia is most common in individuals with type 1 diabetes.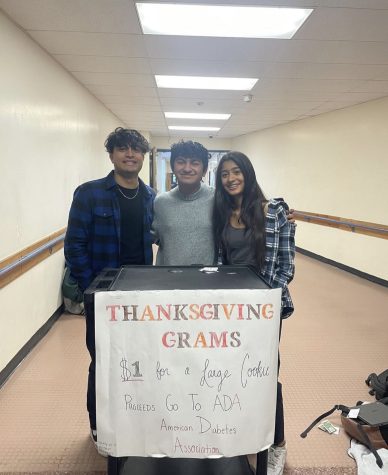 Lastly, Project Insulin members visited several different locations in order to compile data about diabetes, such as local senior centers and hospitals.
Project Lead
The final phase of Project Insulin gives a platform for students and faculty to discuss personal experiences with diabetes.
"To me," Patel described, "this part is the most important for community engagement and truly creating passionate discussions about the fight against diabetes." By incorporating personal stories and discussions into learning, staying educated becomes a much more genuine and sentimental experience.
Project Insulin is a prime example of the benefits of educating a community. Through the immense efforts put in by Patel, Parikh, and Desai, the staff and student body of SWMHS have been provided with the opportunity to strengthen their literacy and understanding of diabetes.
Updates regarding the status of Project Insulin can be found on the group's Instagram page. Stay educated by following their journey through the 2022-23 school year!