Environmental Club Introduction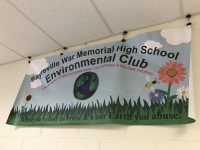 Hang on for a minute...we're trying to find some more stories you might like.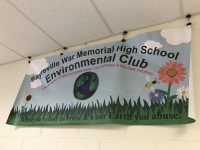 Sayreville War Memorial High School has many clubs and sports to offer. When joining a club or  a sport it is important to choose based on what you are interested in. With that said, if you want to help the environment by keeping the world around you clean, make sure to join the SWMHS Environmental Club! The club has hosted two official meetings so far, but it is never too late to join.
During their interest meeting, which took place on September 25th, they brought brownies for interested members and asked for them to illustrate any type of ecosystem (ex. aquatic/terrestrial).
At their first official meeting, which took place before Halloween, there were plenty of pumpkins to carve. All the groups were very competitive to make sure they had the best looking pumpkin. In addition to carving the pumpkins, they were told to take the seeds out. The board members cleaned off the seed and heated it up, making roasted pumpkin seeds. The members thought the roasted pumpkin seeds tasted delicious, creating a successful end to the meeting.
On October 21st some members participated in a biannual beach cleanup at the Raritan Bay Water Front Park. During the three hour event some Environmental Club members with people from all around Middlesex County picked up trash to make sure the shore was beautified for the public. It was definitely an experience that should not be missed and it takes place again during the spring time. Soon after the beach cleanup there was a three hour trail cleanup on November 4th, which some members took the liberty to attend.
During the Environmental Club's most recent meeting, members created beautiful posters that will be used as reminders for when the club takes place. Since it is the Environmental Club, their plan is to be able to reuse the posters and this way they are not throwing it out and again creating new posters. They are going to be able to reuse the posters since there is an area in the poster which will hold the paper that announces the day of the club.
If these events interested you, Environmental Club has much more to offer this year! To find out what days the club takes place, look out for any posters with their announcements and the morning/afternoon announcements.